Internet Download Accelerator Free will speed up & resume file downloads
Internet Download Accelerator Free will speed up & resume file downloads
We all love to download files as fast as possible. While the internet is faster than what it was ten years ago, but sometimes download gets broken. If the files are more prominent in size, redownloading everything means a lot of waiting time. That's where download managers come into the picture, and today we are talking about Internet Download Accelerator. It comes in Pro and Free version, and we are sharing our experience of the free version.
Internet Download Accelerator 6.19.4
Download
What's New
Certified
Similar to 3
The distinguishing features of Internet Download Accelerator are superior overall performance and convenient user interface.
Internet Download Accelerator lets you to noticeably increase the speed of file download from the Internet using HTTP, HTTPS and FTP protocols. The acceleration is achieved by splitting a file being downloaded into several parts and downloading these parts at the same time. Internet Download Accelerator resumes broken downloads from where they left off from both HTTP, HTTPS and FTP servers.
To increase usability Internet Download Accelerator integrates with Internet Explorer, Firefox, Mozilla, Opera, Nescape and others, replacing the standard download modules. Morover, the program monitors the system clipboard and detects URLs in the clipboard.
Whatever your connection type, Internet Download Accelerator will use the bandwidth of your connection most effectively and download files extremely fast.
Power and useful tool for management of download categories. Possiblity of automatic file type detection with automatic file placement to the specified categories. Unlimited number of categories and hierarchy levels.
The program also contains:
FTP Explorer;
site manager for password and download folders management;
scheduler;
download speed control, automatic mode for the most comfortable browsing on the Web;
dial for dial-up connection; search for files, programs, games, and music;
IDA Bar — a toolbar for Internet Explorer.
What's New:
New version of IDA features ability to download video from popular video sharing services and to preview and play streaming video with built-in player. Improved pop-ups will show you detailed information on download errors (and ways to correct them), download completion and news. Improved integration with Mozilla Firefox and Opera will make life easier for users of these popular browsers.
Docentes y Egresados de Éxito
La mejor manera de conocer la experiencia formativa de la Universidad César Vallejo es a través de quienes la han vivido como estudiantes o educadores en sus distintas carreras, maestrías, doctorados y demás productos formativos.
Dra. Juana María Cruz Montero
Docente investigadora y coordinadora del área de Investigación de la Escuela de Educación Inicial de la UCV.
Tiene la especialidad de Educación en la Primera Infancia, con la psicopedagogía y problemas del aprendizaje. Maestra en Gestión y Docencia Universitaria, Doctora en Educación.
Dr. Carlos Venturo Orbegoso
Jefe de la Escuela de Posgrado de la Universidad César Vallejo
Ingeniero Mecánico por la Universidad Nacional de Trujillo, Doctor en Educación por la Universidad César Vallejo. Es investigador Renacyt perteneciente al grupo "Carlos Monge Medrano", nivel III.
Mag. Marco Cerna Vásquez
Docente de la Escuela de Ing. Civil.
Es ingeniero civil y cuenta con una maestría en Gerencia de la Construcción Moderna con distinción universitaria. Además, es Perito Valuador de la Superintendencia de Banca, Seguros y AFP.
Dr. José Jorge Rodríguez Figueroa
Docente de la Escuela de Administración.
Ha sido reconocido como investigador RENACYT (Registro Nacional de Ciencia, Tecnología y de Innovación Tecnológica) en la categoría "Carlos Monge Medrano" nivel IV.
Dr. Orlando Balarezo Aliaga
Es doctor en Psicología y maestro en Docencia Universitaria.
Es socio representante de la Asociación Peruana de Psicología del Deporte y el Ejercicio (APEPSIDE) e integrante del comité de ética de la Red PsiSur, Presentó su primer libro: "ECOS de la Champions League 2020".
Dra. María Martínez Zavala
Docente de la Universidad César Vallejo
Destacada docente de la Universidad César Vallejo recibió medalla de Honor 2020 del Colegio de Profesores del Perú. Cuenta con estudios de Maestría en la Universidad de la Habana.
Dr. Tulio Villacorta Calderón
Presidente de la Corte Superior de Justicia de Piura
Doctor en Derecho y Ciencias Políticas, abogado con Maestría en Derecho Civil y Comercial. Ha realizado diplomados en Medicina Legal, en Narcotráfico y violencia social, Derecho Penal y Procesal Penal, Derechos Humanos.
Dr. Miguel Ángel Tresierra Ayala
Especialista en Epidemiología y administrativo en la Oficina de Gestión de la Calidad y Control Interno de EsSalud La Libertad.
Especialista en Epidemiología y con experiencia en Auditoría Médica. Lleva 32 años ejerciendo la docencia universitaria como Jefe de Cátedra de Salud Pública. Actualmente es docente de la Escuela de Medicina.
Dra. Blanca Alvarez Luján
Directora Nacional de la Escuela de Marketing y Dirección de Empresas
Ha realizado un posdoctorado en Educación, Ciencias Sociales e Interculturalidad en la Universidad Santo Tomás de Colombia. Es doctora en Administración de Negocios Globales e investigadora del CONCYTEC.
Dr. Luis Carlos Antonio Iberico Núñez
Docente de la Escuela de Ciencias de la Comunicación
Excongresista, expresidente del Congreso de la República (2015-2016) y reconocido periodista. Su trabajo como reportero y conductor en importantes medios de comunicación, lo han llevado a realizar importantes destapes.
Lic. Wilmer Salazar Venegas
Jefe del departamento de Nutrición del Club Sporting Cristal.
Cuenta con una especialidad en nutrición deportiva de alto rendimiento en el Comité Olímpico Peruano-IPD y se desempeña como encargado del departamento de nutrición del Club Sporting Cristal.
Dr. Nelson Eduardo Shack Yalta
Docente de la Escuela de Posgrado de la UCV
Actual Contralor General de la República del Perú. Su amplia experiencia como economista, lo han llevado a desempeñarse como Director General de Presupuesto Público del Ministerio de Economía y Finanzas.
Download any streaming video
XDM can download streaming content from most websites. The best way of downloading webpage embedded videos from the Internet is here. After installing XDM, «Download Video» button pops up whenever you are watching a video anywhere in the Internet. Just click on the button to start downloading clips.
Download 5 time faster
XDM can accelerate downloads by up to 5 times due to its intelligent dynamic file segmentation technology. Unlike other download managers and accelerators XDM segments downloaded files dynamically during download process and reuses available connections without additional connect and login stages to achieve best acceleration performance.
Works with all browsers!
XDM supports all popular browsers including Google Chrome, Firefox Quantum, Vivaldi, Opera and many other browsers on Windows, Linux and OS X.
Download Resume.
XDM will resume unfinished download from the place where they left off. Comprehensive error recovery and resume capability will restart broken or interrupted downloads due to lost or dropped connections, network problems, computer shutdowns, or unexpected power outages.
Smart Scheduler, Speed limiter and queued downloads
XDM can connect to the Internet at a set time, download the files you want, disconnect, or shut down your computer when it's done. XDM also supports speed limiter to allow browsing while downloading. XDM also supports queued download to perform downloads one by one
Support for proxy server, authentication and other advanced features
XDM supports all types of proxy servers including Windows ISA and different types of firewalls. XDM supports auto proxy configuration, NTLM, Basic, Digest, Kerberos, Negotiate algorithms for authentication, batch download etc.
Internet Download Accelerator
In this gearupwindows article, we will share about a freeware utility called Internet Download Accelerator. It comes in Pro and Free versions, and in this post, we will share our expertise on the free version only.
Internet Download Accelerator is a free app that can replace the popular paid software IDM. It is a perfect substitute for IDM. It packs similar features as IDM provides, such as multilingual support, the ability to download video and audio, scheduling download, and more.
The free edition of Internet Download Accelerator is good enough for those who need a perfect download manager for personal use. However, there is a cache in the free version, you have to needle some ads, and then it is good to go.
While modern browsers can download files efficiently, they still aren't smart enough to deal with big files. They don't offer any way to increase the speed or download parts of the data in parallel and no permanent logs of the file source. Even if the source IP gets changed during download, modern browsers cannot handle it, and finally, you can't resume them. Ultimately you will lose bandwidth and your valuable time.
Internet Download Accelerator and Ninja are download managers that can handle or solve all the problems using some techniques. These download managers increase download speed and resume broken downloads and help you manage the downloaded files.
Once you download and install the Internet Download Accelerator (IDA), you need to set your current internet connection speed to help the software set up parameters that will further assist in overall performance to download the files.
IDA splits the file download into small fragments and downloads them simultaneously and separately. When all the chunks of files get downloaded on the computer or laptop, they combine them in one and make them usable. Many websites support downloading a file in small segments, but no browsers use it.
IDA works over HTTP, HTTPS, and FTP protocols. It features resume download if you have to stop the download suddenly or the connection gets interrupted automatically. This functionality saves a lot of time and effort. You can delay the download for later when you need the bandwidth for something else.
Internet Download Accelerator Features
The Internet Download Manager comes with the following main features:-
Browser Integration: IDA integrates into all modern browsers, including Internet Explorer (IE), Google Chrome, Mozilla Firefox, Opera, and Safari.
Clipboard Detection: This module observes the system clipboard, and whenever it detects URLs in the clipboard, it automatically opens the Internet Download Accelerator.
Videos Downloading: Downloads video files from video services like YouTube, however, you need to copy the URL and paste it into the IDA application, and then you are all set to go.
File Categorisation: It recognizes and categorizes the downloaded files for better file management. Even you are allowed to create a hierarchy of folders.
Mirror Sites: This is a unique feature of IDA that works for only popular files over the internet. IDA downloads part files parallelly and speeds up. Once the download begins, right-click on the download progress and click on find mirrors. If the same program is available elsewhere, it will be included in the source. Thus it will download the same file from more than one source at a time, resulting in a faster download.
Download Later: This application allows you to add the files in the queue and download them later. It also permits you to configure further by adding a custom name, username-password, a limit to some segments, and priority.
Site Manager: Using this module, you can download a file from password-protected sites, resume download, and schedule downloads. If a file is behind the login, you can provide the login details in this application to resume the downloading of the file. If you miss adding it initially, you can right-click from the history and add the source to the site manager.
History & Deleted List: This freeware tool maintains a complete history of the downloaded file.
Compatibility: Internet Download Accelerator is compatible with Windows XP, Vista, 7, 8/8.1, and Windows 10 (32-bit and 64-bit architecture).
Download Internet Download Accelerator
You can download the latest version of Internet Accelerator Plus from its official website.
How to Install Internet Download Manager for Chrome
To run this addon in your chrome browser, a windows patch must be installed. Here's how to install the Windows patch.
1) After installing the add-on, you need to install the internet download manager program on your computer. Internet Download Manager Program DOWNLOAD
2) Install windows patch on your computer to communicate between internet donload manager and the plugin. Windows Patch DOWNLOAD
To install the native application:
• Extract this downloaded ZIP file in a local directory.
• Double-click on "install.bat".
• Wait for the script to display the successful message.
3) Before using the plugin, please open the option's page and make sure the IDM path is correct depending on your operating system.
For example, on Windows 10 the path to IDM is: C:Program Files (x86)Internet Download ManagerIDMan.exe
Then, to open and download the links you want in IDM, just right click the mouse and press the "Download With IDM" button.
List of free Chrome download accelerators
Default Google Chrome downloader allows multiple file downloading but the download speed is too slow when you download the same files using Chrome download managers or Chrome download accelerators. These download accelerators split the single file into multiple small files and download them at the same time. Once all small parts are downloaded, they combine them automatically to a single file. This mechanism will drastically increase the downloading speed.
Here is the list of best Chrome download accelerators you need to increase the downloading speed:
1. Download Accelerator Plus (DAP)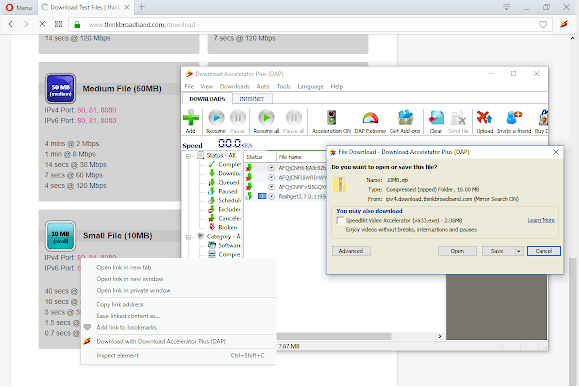 Download Accelerator Plus also knows as DAP is the best Chrome download accelerator extension for any all types of users. You simply need to install the extension on your browser to get started. When you enable this accelerator extension, it will disable your default download manager to replace all download links with DAP. As compared to others, DAP performs better and if your work includes a lot of files downloading and uploading, get the pro version of DAP.
2. Internet Download Manager (IDM)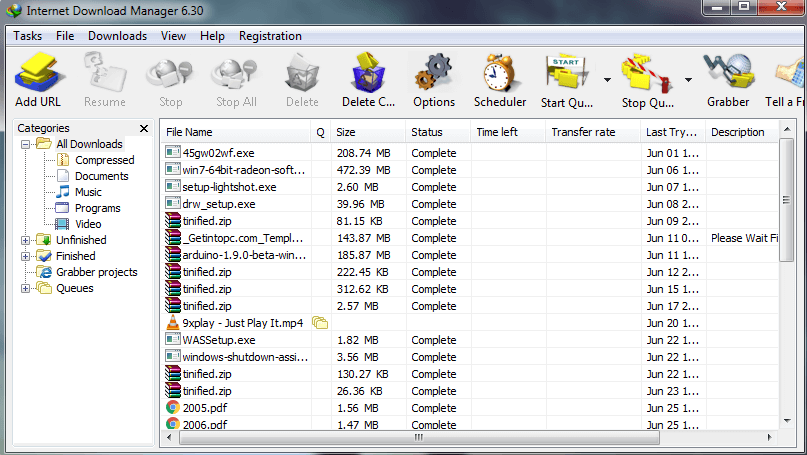 Internet Download Manager or IDM is in the market for a very long time and I personally use it for all my downloads and it uses up to 32 connections to download a file. Literally, it boosts your download speed and makes it faster than any other download managers. IDM is also one of the best Chrome download accelerators you should use as it can download any files with ease.
To use this accelerator, you need to download and install the IDM on your computer and it will automatically take control of your downloads in Google Chrome.
3. FlashGet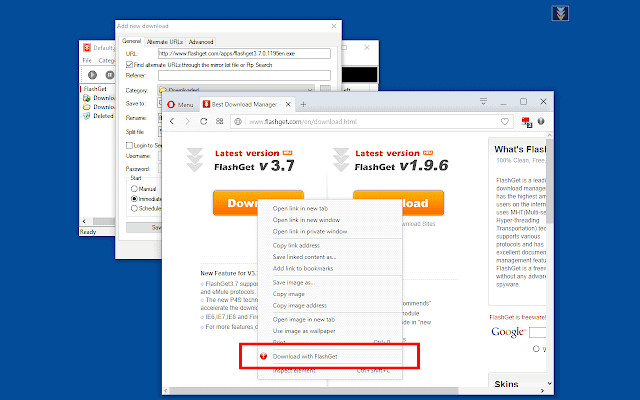 FlashGet is a Chrome download accelerator extension that can increase the file downloading speeds rapidly. To download files with FlashGet from Google Chrome, you just need to right-click on the download link and select "Download with FlashGet". It can download any files like text, audio, video, etc. It also interrupts your default download manager just like DAP. I will recommend you to try out this free Chrome download accelerator to boost your download's speed.
4. EagleGet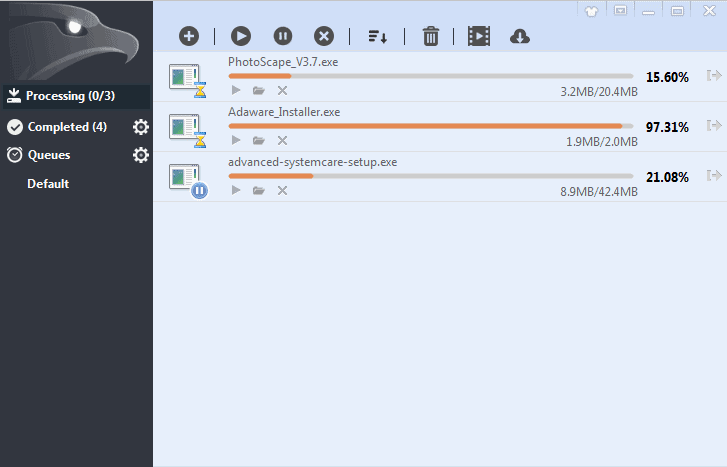 EagleGet is a free all-in-one download manager and accelerator for Google Chrome. The UI of this download accelerator is not so classy as others but the features are impressive. You can download any type of file when it is integrated with your Google Chrome web browser. EagleGet also supports multiple threads that help in speeding up the downloads. Additionally, EagleGet contains Clipboard and browsing live monitoring tools just like IDM and virus checkups, gaming mode (with all notifications disabled), task cleaner etc.
5. JDownloader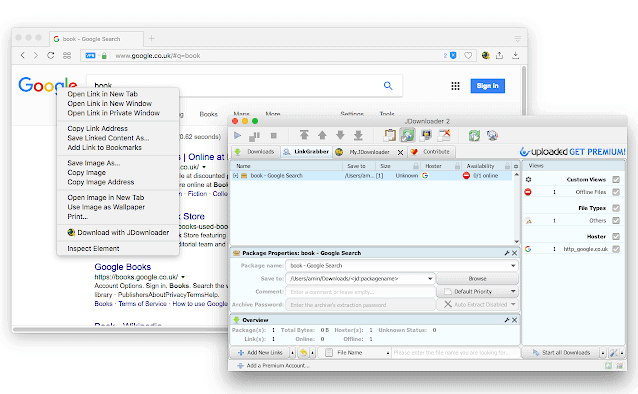 JDownloader comes handy when you need to download simple files which are not way too complicated. It is a good Chrome download accelerator but when compared with other, it is far beyond the others. JDownloader will help you download the various file like audio, video, etc. It works just like any ordinary download manager extensions to help you with increasing the download speeds.
6. Download Accelerator and Manager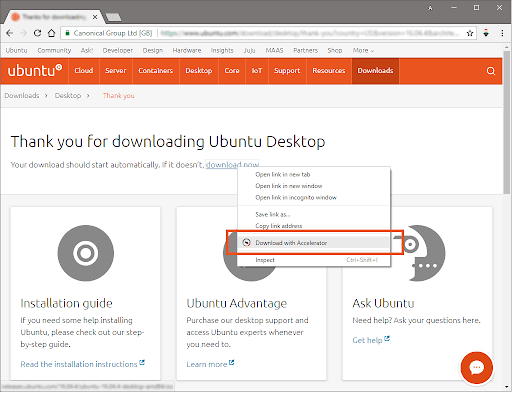 Download Accelerator and Manager is a powerful add-on that enables you to download big files with a multi-threaded method as DAP and IDM do. It uses a smart and multi-threaded JavaScript engine to divide the input file into various packets and then download all sections in parallel. Just enter desired thread number in a popup and then add a download task.
In order to add new downloads, you have 2 options:
1st option is through the context-menu item by right-clicking on the desired download link and choose "Download with Accelerator".
The second way is by opening the toolbar popup and add the desired download link. You can also add the number of threads you want to split your files.
7. Chrono Download Manager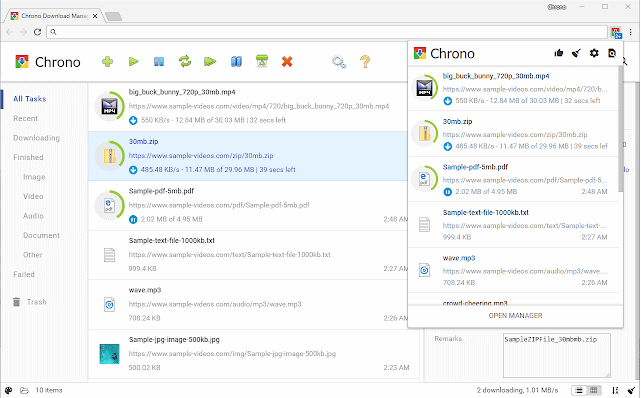 Chrono Download Manager is a Chrome download accelerator extension available in the Chrome store. It will automatically fetch the type of file on the web page and you can download all the available downloadable files on that web page by clicking on the Chrono icon. Just like Chrome's download section, it will also show you all the downloads in the web browser itself.
So, you don't need to search the files on your local directories. It is also the best video download helper to download videos from any websites you visit.
8. Download Ninja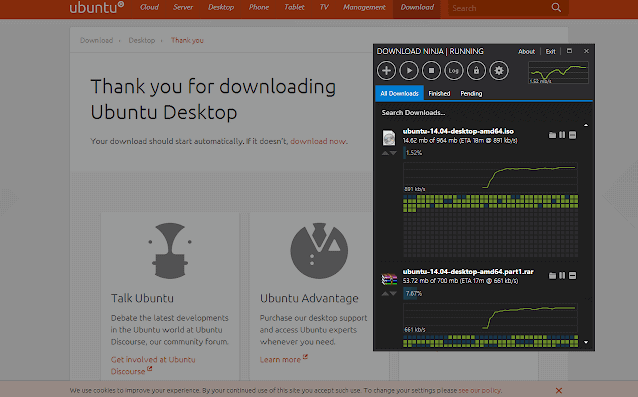 Download Ninja comes with a pretty and geeky style user interface. It will show you the download speed when downloading any file from the web browser. You can download any file by right-clicking on the download link and it is supported by almost all the web browsers.
Download Ninja will list all the available media you can download from a specific web page. So, In my recommendation, you should try this Chrome download accelerator as it is lightweight and easy to use with geeky stats.
9. Turbo Download Manager

Turbo Download Manager aims to provide reliable file fetching from the server to download the file with resume capability. Even with the slow Internet connection, it works best. The best part of it is open source and free. Turbo Download Manager will increase your download speed depending on the number of thread your file is split and your Internet connection. Also, it allows you to continue broken downloads by introducing fresh links and downloading from multiple sources with media preview.
10. Internet Download Accelerator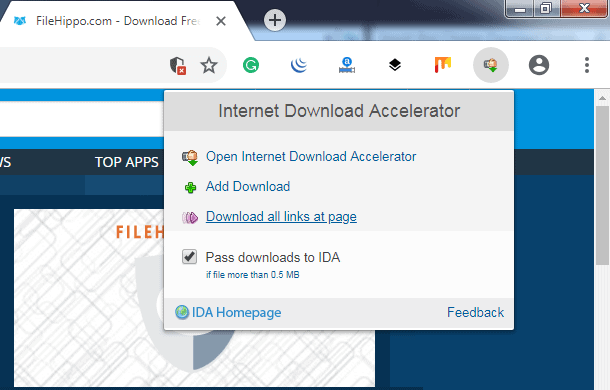 Internet Download Accelerator will help you download your files faster with simple UI and easy to use features. It is a pretty decent Chrome download accelerator extension you should try. You can download any files with just a few clicks and boost your download speed without making any changes in your network settings.
Conclusion
So, these were the best Chrome Download Accelerators you can use in Google Chrome or any other web browser like Firefox, Opera, Safari and Microsoft Edge. It will not only help you with download any type of file but also increase the download speed. Do tell your views in the comment section below and if there's any other download accelerator you use.