Word To PDF Converter & Reader
Word To PDF Converter & Reader
Проверьте историю рейтингов загрузок Word To PDF Converter & Reader в Россия.
История рейтингов показывает, насколько приложение Word To PDF Converter & Reader популярно в магазине iOS, и позволяет узнать об изменениях популярности с течением времени. Вы можете отслеживать показатели эффективности Word To PDF Converter & Reader по дням и по часам в разных странах, категориях и на разных устройствах.
Узнайте больше после бесплатной регистрации!
Оптимизация для магазинов приложений
Отслеживайте топ ключевых слов для любого приложения и узнавайте, как его поисковая позиция меняется с течением времени благодаря их использованию.
Отзывы и оценки приложения
Получайте ценные данные от ваших пользователей, изучая Отзывы и Оценки приложений. Делите данные по версиям, странам и датам, чтобы узнавать о багах, следить за интересными предложениями и улучшать свое приложение.
Реклама
Узнайте, где и когда приложения были рекомендованы в разных магазинах приложений с точностью до дня, страны, устройства и секции.
Описание приложения
Word to PDF is a universal app for iPhone and iPad that can convert your MS Office Word to Adobe Acrobat PDF. After installed, Word to PDF appears in the «Open In. » list on your device. This lets you convert word from Mail, Safari, GoodReader and many other applications on your iOS device that supports this function.
It's just as easy as it sounds! No need for overcomplicated apps with dozens of nonsense features.
With PDF Converter app you can convert your documents to pdf or create pdf files in a matter of seconds.
* Support all apple iOS devices.
* Really attractive, super easy to use interface
* Using «Open In. » approach, print files from many popular online storages: Dropbox, MobileMe iDisk, GoogleDocs and other cloud storage applications.
* Save the following multiple word doc formats .doc, .docx to PDF.
* Mail out documents as email attachments.
* Copy documents to clipboard.
* Send files to iBook, GoodReader, PDF Reader or other apps(«Open In..» integration).
* USB file transfer (iTunes file sharing).
The converted PDF files could be opened in iBooks, GoodReader or Adobe Reader app for best reading experience. Also, you can send PDFs by e-mail, open in other apps and even transfer to computer.
The build-in PDF Merger feature is a professional but easy-to-use PDF file Combiner & Joiner designed to merge PDF files for more convenient organizing, archiving and printing in batch. With it you can combine multiple PDF files in a order to create a new single PDF file.
Several sample files have been included, you can test it right now!
Any questions, suggestions and problems please let us know.
We will reply ASSP, and continue to update.
Subscribe for unlimited access to all the Premium features. —
— Subscription is automatically renewed unless canceled 24 hours before the renewal — Payment will be charged to iTunes Account at confirmation of purchase — Account will be charged for renewal within 24-hours prior to the end of the current period, at the same price — Subscriptions may be managed by the user and auto-renewal may be turned off by going to the user's Account Settings after purchase — Any unused portion of a free trial period, if offered, will be forfeited when the user purchases a subscription to that publication, where applicable Privacy Policy : https://nitinkatrodiya.wordpress.com/privacy-policy/ & Terms of Service: https://nitinkatrodiya.wordpress.com/terms-and-condition/
Оптимизация для магазинов приложений
Какие слова люди используют, чтобы найти приложение? Правильные ключевые слова помогут повысить заметность приложения, а так же улучшить показатели загрузок и дохода. App Annie отслеживает миллионы ключевых слов, чтобы вы смогли увеличить количество загрузок своего приложения и понять, какие ключевые слова используют ваши конкуренты.
Отзывы и оценки приложения
Узнайте, что пользователи думают о Word To PDF Converter & Reader прочитав отзывы и просмотрев оценки этого приложения.
Convert Word to PDF Offline
SwifDoo PDF
SwifDoo PDF is an offline Word to PDF converter, which can provide high-quality conversion results and perform batch converting. Take a look at how to convert Word to PDF without changing format:
Step 1: Download SwifDoo PDF from the official website;
Step 2: Launch the program and choose PDF to Word to trigger SwifDoo Converter;
Step 3: Choose Office to PDF and add your Word document to the workplace;
Step 4: Click Start to convert your file into PDF.
What needs to be mentioned is this PDF program can convert password protected PDF to Word and other formats, and it can convert Word to PDF with tracked changes. If your Word document has hyperlinks or annotations, SwifDoo PDF will also keep those changes after conversion.
Preview
Preview is a built-in image viewer and PDF converter of the macOS operating system. Therefore, Mac users don't have to worry about how to convert Word to PDF on Mac, and Preview can well resolve Word to PDF conversion:
Step 1: Click the Word document you want to export as a PDF;
Step 2: Select Print in the File tab;
Step 3: When you see the PDF pop-up menu, click it to choose Save as PDF;
Step 4: Press the Print
Word
Microsoft Word is a word processor program developed by Microsoft and was firstly released in 1983. As a flagship product of Microsoft Office Suite, Word allows users to create high-quality documents. What's more beneficial is that Word can check your grammatical errors, spelling mistakes, and word count.
If you have Microsoft Word 2007 installed on your PC or even later versions, such as Word 2010 and Word 2013, the simplest method to convert a Word document into a PDF is within Word itself:
In Word 2007
Step 1: Open the file you need to convert and then hit the File tab;
Step 2: Choose Select As in a drop-down menu, and then click PDF or XPS;
Step 3: When the Save As window pops up, select an expected location to store the converted document. Meanwhile, you are able to rename the document and change the file type if necessary.
In Word 2010
The Save As setting in Word 2010 is slightly different from that of in Word 2007. Let's see how it goes:
Step 1: Click File on the menu bar;
Step 2: Hit the Save & Send button to choose Create PDF/XPS Document;
Step 3: After a Publish window pops up, enter the file name, choose the file type, and then press Publish to finalize Word to PDF conversion.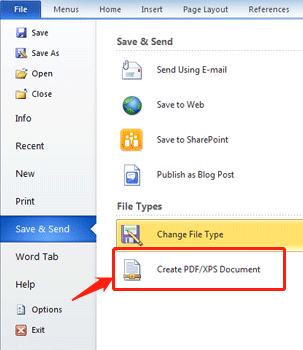 Unlike Word 2007 and 2010, Word 2003 has no native ability to create PDFs. In this case, you may need a third-party PDF product to import a Word file into a PDF with the «Print» option.
If you are not a user of Microsoft Office and you need to bulk or batch convert multiple documents, then you may need external assistance such as online and desktop PDF converters to convert Word to PDF without changing formatting.
Use Adobe Acrobat to Convert Word to PDF
Adobe's Acrobat software for viewing and editing PDF documents can convert Word to PDF. If the Word document has proper headings and aternative text, the PDF will be too.
In Acrobat, click the "File" menu, then "Create."
Choose "PDF from File" then find and select the Word file you wish to convert.
After a moment, Acrobat will open the Word document as a tagged PDF file.
Save the PDF wherever you want.
While still in Acrobat, check the structure and reading order and fix any problems.
Microsoft Word Documents Don't Have Great Security
When Microsoft Word documents are shared online, unscrupulous users can dive through EXIF data and other historical data to find information that you wouldn't want to share with anyone.
This is especially true when sharing Microsoft Word documents with people who you don't trust. Even if you think you can trust the people who have access to your documents, converting your files to PDFs before sending them is the only way to ensure your personal information stays safe.
How to save Word document as PDF
Numerous document format may lead to compatibility issues when you share your Word file to colleagues. In ONLYOFFICE Docs you can save documents as PDFs and open them on any operating system without data loss. Read this post to learn how.
About PDF
PDF (Portable Document Format) is a format developed by Adobe for presenting documents with text, graphics, clickable links, audio and video files etc. In the official Adobe Acrobat app you can create, merge, edit, fill in, sign PDFs and do even more on any operating system. Numerous other apps support this format, including ONLYOFFICE Docs.
Here are some most common reasons why PDF is popular for document workflow:
Content security options (watermarks, passwords, digital signatures etc.);
Authenticity of graphics;
Suitable for diverse contents, including 3D models and interactive fields;
Intuitive interface and easy navigation;
Compression without quality loss.
On the Internet you may see many ebooks distributed as PDFs. They are often released without permission from copyright owners. Popular retailers like Apple, Amazon or Kobo usually don't accept literature in PDF.
The format was initially developed for documents, not ebooks. Sometimes files cannot adapt to the screen of portable devices — you will have to zoom in and out all the time instead of comfortable reading. Read how to make ebooks in ONLYOFFICE.
Word to PDF conversion
Adobe offers native software Acrobat Pro DC to convert Word docs to PDF. As of June 2021, the solution costs from $14.99 per month and additionally includes 100 GB storage. It is the best option, if your company regularly deals with hundreds of PDF files. Windows and Mac supported.
Some users work with this format rather seldom and want more affordable alternatives. There are many free DOCX to PDF converters over the web. Pro versions usually offer unlimited file conversions, editing capabilities, and have no ads.
Online converters have at least two huge disadvantages:
possible content loss or damage during conversion,
data disclosure to third-party online converters.
To avoid data corruption and ensure security, save your DOC, DOCX, RTF or ODT files as PDF in document editor, such as ONLYOFFICE Docs.
How to save Word as PDF in ONLYOFFICE
In ONLYOFFICE Docs you can draft documents and convert text to PDF. Just go to the File tab and choose the corresponding format.
PDF/A is an ISO-stardartized version of the Portable Document Format that focuses on the long-term archiving. Choose this option, if you plan to store a document many years. Remember that in this case encryption and some other features will be turned off.
ONLYOFFICE offers multiple useful plugins for creating content-rich PDF files. You can insert YouTube videos, add and edit pictures, check spelling, find synonyms, and do even more. See all plugins
After saving you will find the PDF file in the Downloads folder on your computer.
ONLYOFFICE Desktop Editors also convert Word documents to PDFs — just choose the necessary format from the drop-down list.
With ONLYOFFICE desktop app you can turn DOCX to PDF on any operating system, including Windows, Linux, and macOS.
Get ONLYOFFICE Docs to modify and export your DOC, DOCX, RTF or ODT files to PDF.
How to convert from PDF to Word in pdfDocs
By Alan Wheat, Senior Product Manager.

One of the most beneficial things a PDF file editor can do is convert to Word. This process unlocks all kinds of workflows – from text editing to a complete redesign. Next time you can't locate the original Word file or need to update a PDF created by someone else, simply convert to Word from PDF. Here's how to do it when using pdfDocs.
Option 1. Export To Microsoft Word
There are three equally simple ways you can convert to Word in pdfDocs. The first is to select Export To in the Home tab. From there, you can convert to Word or another file type like Excel or PDF/A.
Option 2. Right click on a page and Export
The second option is to right-click on the page or pages you want to convert to Word in the Pages pane. The menu below will display. Then press Export.
Option 3. Go to the File menu and Export
The third workflow is choosing the Export option within the File menu. From here, choose which pages you'd like to export and then click Create Word Document.
After you convert to Word
Your new document will automatically open in Microsoft Word once pdfDocs has finished the conversion. Text recognition technology used in the conversion process means all the original text can be edited or deleted, and new text can be added.
You also have the option to convert to Microsoft Excel if the document was first created as a spreadsheet. Update the data as required and export back to PDF to share the new version.
Text editing in PDF
The text editing tools in pdfDocs offer another way to review and make changes to documents. Highlight important sections, add text or text comments, edit objects or images, add links or apply headers and footers. Plus add, remove, or rearrange pages. Then save this as your next version. No conversion or document recreation needed.
Want to know more about pdfDocs for file conversion and text editing? See how it works here.
Converting a document
1. Back in SharePoint, go to the document library that was used to create the flow.
2. Select the document that you want to convert and then select 'Flow'. From here choose 'Convert Word to PDF'.
3. Select 'Run flow'.
4. The flow will run.
5. Your Word document has now been converted to PDF.